Do you want to be a buy to let investor?
If you do then as a landlord in the UK there are a number of things that you need to be aware of.
You need to know what an Assured Shorthold Tenancy Agreement (AST) is and what this means to you.
In this post I will give you the lowdown on what an AST is, when you should use one, how you can set one up and the important aspects about an AST that you really need to know. This is going to be quite a long post but I urge you to read it all as this is very important for you.
So what is an Assured Shorthold Tenancy Agreement (AST)?
He short answer is than an AST is the standard for residential letting tenancy agreements these days. In fact, since 1997, new tenancies automatically became assured shorthold tenancies unless the parties agreed some other type of agreement.
The AST was introduced to provide tenants with security of tenure although there are limitations in most agreements. With an AST as long as a tenant pays their rent and complies with the tenancy conditions they have occupancy entitlement for the period of the AST agreement or the "term".
An AST is good for a landlord as well because it ensures that they can take back their property once the term ends. At this point the tenant has no further occupancy rights and will have to leave.
From 1997 it is now law for a landlord to provide notice stating that a tenancy is an AST and that any new tenancy will automatically be an AST unless stated otherwise. As a landlord you will need to provide a contract agreement for the tenant to sign prior to the commencement of the tenancy.
In this agreement you would specify a fixed term of between 6 and 12 months and the amount of rent payable. You may want to offer a break clause in your agreement which would allow a tenant to terminate this contract if they so choose.
In cases where a contract does not exist then the tenant has every right to request that you as the landlord supply the following in writing:
The start date of the tenancy
The amount of rent and the dates the rent is due
Any rent review terms
The agreement term
In addition to this as a landlord you need to supply your tenant with following:
The How To Rent Guide published by the UK government
A copy of the Energy Performance Certificate (EPC)
A copy of your gas safety certificate
The Term of an AST
I need to point out to you that although new AST's normally have a term of either 6 months or 12 months, the term can be longer than this. At this point you may be confused about the word "shorthold" so let me explain further.
A tenancy agreement that is not "shorthold" will usually grant a tenant ongoing rights which an AST does not. When an AST term expires, the landlord can issue a new AST for another fixed term if they want to do this. Or they can simply allow the tenancy to carry on month by month. This is then a periodic tenancy (I will come back to this later).
A solicitor told me that an AST could have a term up to 7 years. Recently the government has consulted on proposals to extend the minimum term of an AST to 3 years. There would likely be a 6 month break clause introduced as well. If the proposals go through then there will be new legislation about AST's.
When should you use an AST?
The information I will provide to you here is relevant for England and Wales. It is very likely that there will be some differences if you are a landlord in Scotland. In 2017 there was a new type of tenancy agreement introduced in Scotland called the Private Residential Tenancy. If you are renting in Scotland please do your own research on this.
The use of an AST or not is dictated by law and you can find the details here. Only housing associations and private landlords can use AST's. A landlord can only use an AST when they do not reside in the property and when it will be the main home of the tenant.
You cannot use an AST for a business tenancy (this includes pubs) nor can you use an AST for lodgers in your home or for holiday lets. If the rent you are charging is less than £250 (£1,000 in London) a year or the rent you charge is in excess of £100,000 per year then you cannot use an AST.
How can you set up an AST?
At the end of the day an AST is a contract between you as a landlord and a tenant. So if you are going to set one up then you will need to ensure that all of the detail is included and correct. If you make mistakes with an AST it can actually be an invalid contract. In the worst case it can lead to difficulties in collecting rent and regaining occupation of a property.
Your AST needs to include all of the terms and conditions concerning the tenant occupancy. Be sure to include what they can use your property for, the amount of rent to pay, what the tenant can and cannot do and their responsibilities over damages.
If you are hoping that there is some standard legal wording that you can copy then you will be disappointed. Different landlords use different AST's and they will vary in some way. But help is available and you don't have to create an AST from scratch. There are AST templates you can use from good sources:
There is a free AST agreement template on the official UK government website here
You can find a good AST template and other tenant documents from the National Landlords Association here
More tenancy documents and templates (including AST) from the Landlord Zone here
If you have a good solicitor that is well versed in the law around tenancy contracts then you can ask them to create an AST for you. As a minimum you can ask them to look over an AST that you have created to ensure that it is sound.
Consider these Points if you use an AST
It is important that you consider these points when you want to use an AST:
Right to Rent Immigration Check
As part of the 2014 Immigration Act, private landlords and letting agents are obligated to conduct a right to rent immigration check on prospective tenants prior to offering a tenancy. As a landlord you will need to take a copy of passports and any other documentation which supports their immigration status. It is permissible to charge the tenant for this.
You have to check all people over the age of 18 who will live in your property as part of the tenancy agreement. There is no requirement to check children that are younger than 18 years old.
If there is a time limit on the tenant's immigration status then you have to perform follow up checks and you have to terminate the AST (using legal means of course) if you discover that any member of the party does not have the right to stay in the UK. As a landlord you may actually receive a Home Office notification on this.
References
You are not legally obligated to take references under the terms of an AST but it is good practice to do so. The aim here is to verify that the tenant named in the agreement is really who they say they are. You can also use this as a chance to check their employment status, their credit history and their income.
Landlords will take a reference after the tenant has made their holding deposit and both sides are happy to proceed towards a tenancy agreement. You will have to remove your property from the marketplace at this stage and change its status to "let agreed".
Protection of Tenancy Deposit
If you are going to take a deposit as a landlord (and you should) then you must provide protection for it using as tenancy deposit scheme which is government approved. Failure to do this could lead to problems with the eviction of a tenant should the need arise.
Conduct an Inventory
Again you are not obliged to do this under an AST but it makes good sense. Take stock of all of the contents in your property prior to handing it over to a tenant. You will find that a lot of AST's do make reference to an inventory usually attached as an appendix to the main agreement.
EPC (Energy Performance Certificate) and Gas Safety Certificate
As a landlord you have to provide the tenant with your Energy Performance Certificate and your Gas Safety certificate. It doesn't matter if you use an AST or not this is the law. If you fail to do this then you can run into difficulties with tenant eviction if this is required.
Government How To Rent Guide
It is your responsibility as a landlord to provide your tenant with the current version of the How to Rent Guide produced by the government. If you don't do this then again you could experience problems with eviction even if you have an AST in place.
How to Terminate an AST
If there is a reason why you need to terminate an AST prior to the end of the term then there are 2 main ways that you can do this. There are sections in the 1988 Housing Act that sets down how they work and the specific notices that landlords must provide to tenants:
Section 8
If you feel that you have grounds for terminating an AST then you need to follow the Section 8 process. The grounds that you have for termination can vary, although usually they are where a tenant breaks a specific part of the AST.
Here are some of the most common grounds for termination under an AST:
The tenant is behind with their rent payments (usually a minimum of 8 weeks)
The tenant has caused a nuisance to neighbours or engaged in some form of anti-social behaviour
The tenant has caused damage to the property
Your tenant has the right to challenge any notice in the courts. They can supply reasons why they should not face eviction and this can certainly include any issues with the AST or other documents. You will not be able to force through the eviction in this case until the court grants you an order to do so.
More about Periodic Tenancies
I will conclude this post by telling you more about periodic tenancies as I promised. Most landlords get involved with periodic tenancies so it is important that you read and understand this. A periodic tenancy usually operates from month to month. If the rent is paid using another frequency then you would use this.
A periodic tenancy is not fixed term like an AST. If you don't want to get involved with a periodic tenancy then you can offer your tenant a new AST for another fixed term period. If you or the tenant does not give notice then a periodic tenancy can come into effect if both parties are in agreement.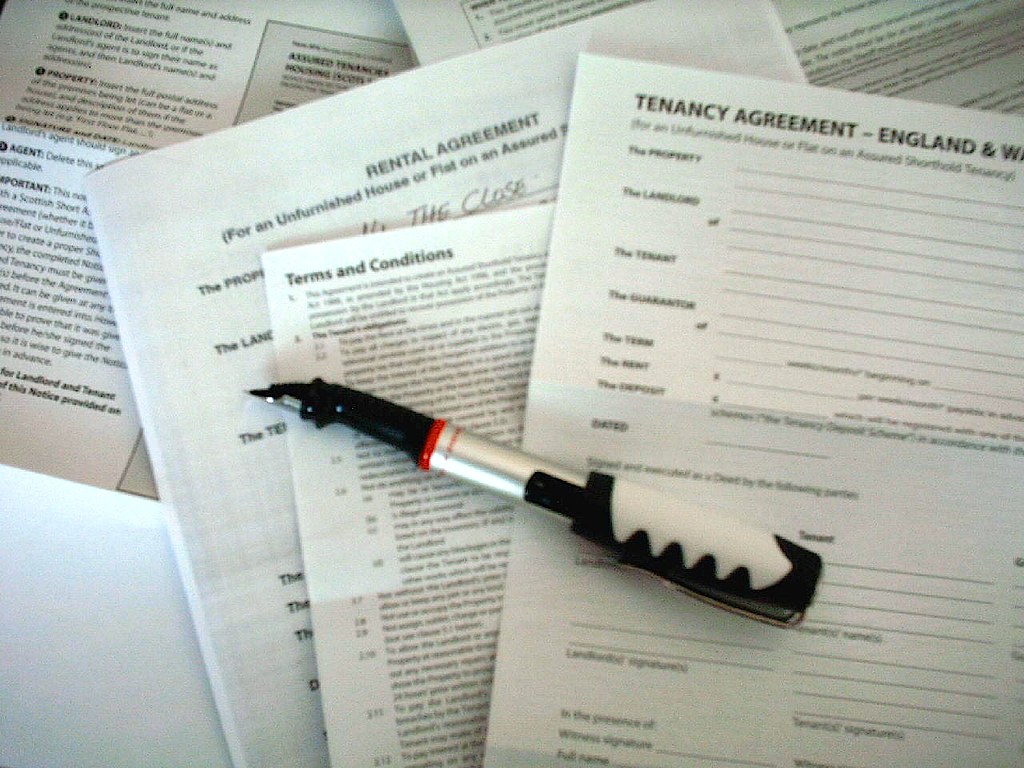 Conclusion
I make no apology for this being a long post. All landlords in the UK need to be fully aware of tenancy agreements and other legal requirements. If you do not comply with the law then you can be liable to some heavy fines. Don't take the risk – educate yourself and know what your responsibilities are.
Being a landlord in the UK can be very lucrative but it has its fair share of problems too. Even if you hire a lettings agent you need to know what is going on and what responsibilities you have.