So you Want to Know
How to Start as a Real Estate Investor?
Well, I've got a confession to make.
Becoming A Successful Real Estate Investor is HARD.
In my 12+ years in the industry I have had my fair share of knocks, scrapes and problems to solve. False promises and people letting you down at the last minute are common place.
The good news …
… if you get it right, the rewards are life changing.
In this how to start as a real estate investor guide I will show you the 10 principles, that I use on a daily basis, that enabled me to make a ROCE return of 1270% on one of my recent real estate investment projects.
1270% ROCE on one real estate investment deal!!!
Let's Dive Right In ...
What is a Real Estate Investor?
Real Estate Investors use their knowledge and skills of the real estate market to make short and long-term gains. These include the buying, selling, owning, managing, building and renting of real estate for profit.
Real estate investors use different investment strategies according to their goals and risk tolerance.
Can Anyone be a Real Estate Investor?
There are real estate investing courses out there that try to convince you that building wealth with real estate is easy. I live real estate investing every day, and I can tell you from experience that it is not easy.
This is not a "real estate investing for dummies" guide. Dummies do not make successful real estate investors!
How do I Start as a Real Estate Investor?
In my real estate investing business, we have 10 core principles for success that we constantly refer to and use over and over. You can never predict every challenge that will come your way.
But if you adopt these 10 core principles of real estate investing success you will be able to overcome challenges and get the results that you want.
Real Estate Investing Principle 1:
Develop a Winning Real Estate Investment Mindset
You need a winning real estate investment mindset to ensure that you have the maximum chance of success. This is the best real estate investing advice ever.
If you want to know the biggest secret to real estate investing success and how to become a real estate investor that creates massive wealth then having the right mindset is where it all starts.
So, what traits do successful real estate investors have?
Through my comprehensive research and my own 12+ years of experience in the real estate investment field, I believe that these are the most important traits of a successful real estate investor:
1) They are Knowledgeable
Successful real estate investors really know their subject. Not only that, they have a thirst for learning more and always want to stay up to date in the ever-changing world of real estate investment.
They also keep their fingers on the pulse.
A knowledgeable real estate investor knows; the best locations for investment, the right strategies to use and their numbers inside out.
An experienced real estate investor can spot trends that are too their advantage before others do. They know exactly what to look for when it comes to a successful real estate investment project.
The knowledge that successful real estate investors have minimizes their fear so that they can make the right decisions.
2) They are Highly Focused
In the world of real estate investing, there is always someone who will tell you that they have a new secret strategy that you need to take a serious look at.
A lot of novice investors will drop what they are doing and divert their attention to these distractions that promise easy money in real estate.
The best real estate investors are never distracted by the promise of the grass being greener elsewhere. If they do come across something that piques their interest then they will make a note to investigate it later on.
They know exactly what they want and nothing, or nobody, will get in their way.
There are many potential obstacles with real estate investing and if you have laser focus then you will overcome these obstacles a lot more easily.
Having a laser focus when you are starting a real estate business is critical.
3) They Have Patience
You have looked at a number of different opportunities and you are desperate to make a start with your real estate investment business.
When you are in a state of desperation, you are more likely to do something that you might regret later, such as offer more money for a property than you should.
A lot of new real estate investors end up in a desperate state. If you find yourself feeling desperate then you must distance yourself and keep calm.
Sellers can sense a desperate real estate investor and they will try all kinds of tactics to make you pay more. Patience is something that you must have to be successful.
It is understandable that you will want to act on real estate opportunities right away. The pressure builds up inside you and you believe that by taking action you will relieve this pressure.
You will relieve the pressure initially, but if you make the wrong decision in your haste then the pressure will return and be more intense.
4) They Never Make Real Estate Investments Based on Emotion
Getting emotional about real estate investments is understandable. You have a goal of building wealth with real estate and you want to get started immediately.
But if you make the wrong decision based on emotion you could end up making little money on your project or even losing money.
Never make a real estate investment decision based on emotion. We have seen this a number of times and it almost always ends in disaster.
Some people will purchase a property at too high a price because they have fallen in love with it.
Others will make a real estate investment decision because they feel pressured to do this. They have spent a long time looking at different opportunities and feel totally overwhelmed.
If this happens to you then you must exercise patience and take a step back. Don't just rush in to buy a property because you feel pressured to do this.
5) They Rely on Their Instincts
It is critical that you are entirely comfortable with every real estate investment that you make. If something doesn't feel right to you then this is your intuition protecting you.
We have pulled out of a number of deals because our instincts told us that something was not right.
You should not just consider the property but also the area that it is in. Also consider how you feel about the realtors involved, the contractors that you will use for the rehab and so on.
If any of these factors do not feel right for you then walk away.
Always believe that there will be other opportunities that you can feel good about.
There is a lot of money at stake here, so if something doesn't feel right then be prepared to back out of the deal.
6) They have Mental Toughness
You need to be mentally tough to become a successful real estate investor. There are going to be problems that you have to deal with that you would have never anticipated.
If you let these problems overwhelm you then you will be a lot more likely to give up.
Mental toughness will enable you to bounce back from the setbacks that you will inevitably face in the future. People are going to let you down.

Deals are going to fall through at the last minute. Something unexpected is going to come up during the renovations.
Imagine purchasing a property that you thought was sound only to discover that it has a major structural problem that is going to cost thousands to put right.
How would you feel in that situation?
This has happened to many real estate investors. They did all of the right things, but something was overlooked which could wipe out all potential profit from the project.
One thing that you can absolutely guarantee with real estate investment is that things are going to go wrong.
You know that it is a risky business, but you got involved because the rewards are worth the risk.
So, work on your mental toughness because you are going to need it!
7) They Build Strong Relationships
The most successful real estate investors create strong relationships with the people that they need to.
They have a great relationship with realtors in their target areas, contractors, lenders, joint venture partners, lawyers, city officials and more.
They have a virtual team of the right people. You need to spend time building the right relationships. Knowing the right people and being able to count on them is essential to your success as a real estate investor.
So, invest in your relationship building skills.
8) They use the Power of Leverage
You need to fully understand and use the power of leverage. I am often asked "how to invest in real estate with no money?" The answer to this question is by using leverage.
You can become very successful in real estate investing, using other people's money.
Leverage is not just about finances. You can use leverage to get the most out of the relationships that you develop as well as the real estate investment opportunities that come your way.
For example, you may come across a deal that may not be worth that much to you initially, but has the potential to open doors for you in the future.
Real Estate Investing Principle 2:
Choose One Real Estate Investment Strategy And Stick With It
We have seen a lot of people fail in real estate investment because they kept changing their mind about the different strategies available.
If you decide on the "buy and hold" strategy for example then stick with this. Do not suddenly decide that you want to flip properties because someone told you that it was a good idea and it was where the money was.
When you are just starting out you will want to learn everything that you can about your chosen strategy.
If you keep "chopping and changing" then you will end up being a Jack of all trades and a master of none.
In their brilliant Best Selling book The One Thing. Authors Gary Keller and Jay Papasan, talk about the power of focusing on one thing at a time, to perfection.
I always recommend that you learn as much as you can about the real estate investment business no matter if you are just starting out or have been involved for a while.
Be selective about your learning though. If you have chosen the "buy and hold" strategy then just learn about this through training courses, seminars, researching online and so on.
Once you have mastered your strategy and have a few successful projects under your belt then you can look at another strategy.
Don't be a dabbler
I have been in the real estate investment business for a long time now and have only really used three different strategies. Flipping, buy and hold and new home development.
Real Estate Investing Principle 3:
Set Goals for your Real Estate Investment
Do you have written goals for your real estate investing business? If you do, then congratulations you are probably in the minority.
It is fine to have big dreams about being successful with real estate investment. But you need to take it a step further and create inspiring goals from your dreams.
Why don't people set goals? Because it takes effort of course!
You have to use that wonder muscle in your head to think about what you really want and when you want it by. It is not something that you can do in 5 minutes – which is a really good thing in our opinion.
Your real estate investment business has the potential to significantly change your life for the better.
So why wouldn't you spend a few hours on creating clear and exciting goals for your business?
Goals will clarify the direction that you need to go in, to achieve your dreams. Goal setting is not something that you just do on New Year's Eve. We all know how that generally turns out!
How much do you want to make from real estate investing? How long are you prepared to wait for this money? How much do you need to be financially free? How many properties will you have in your portfolio?
Can you honestly answer these questions right now?
It is OK if you cannot answer them, but you certainly need to think about them before you start investing in real estate.
If you just go into this business without a target in mind then everything will be a lot more difficult for you.
You must set yourself financial goals for your real estate investment business
These goals will help you to determine the right investment strategy to follow and help you to determine which properties will meet your financial criteria.
If you want to make a lot of money very fast then you could go down the house flipping route where you buy a property for a low price, renovate it and then sell it at a higher price for a profit.
You then need to learn everything that you can about this strategy to provide you with the best chance of achieving your financial goals.
Alternatively, you may want to develop longer term passive income streams from your properties and to do this you could follow a buy and hold strategy.
Again, you need to know everything that you can about the strategy to get the best results.
Here are some examples of previous real estate investing goals, I have set in my real estate investment business:
• I will raise $1 million in investor finance in the next 12 months

• Offer on 20 new properties that pass our appraisal system

• Options signed on atleast three planning projects
It all starts with your financial goals. Take your time when you are setting the financial goals for your real estate investment business. It is not something that should do quickly.
Always treat real estate investment as a serious business. You need laser focus for success, and setting goals will help you to provide that focus.
Real Estate Investing Principle 4:
Create a Plan for your Real Estate Investments
After you have created your goals for real estate investment you will need to create a plan to achieve them.
Real estate investing for beginners is not easy because you have so much to learn. Do not let this overwhelm you. Identify the gaps in your knowledge and add this to your plan.
A plan is there to be changed as you move forward with your real estate investing journey. It is never going to perfect, so do not concern yourself with this.
There are going to be things that you do not know how to do and that is fine. Add all of this to your plan.
The alternative to having a real estate investing plan is to dive in and play everything by ear. Real estate investment is risky, but you can minimize the risk with a solid plan.
Going into it head first is definitely not something that I would recommend.
Once you have decided on your real estate investment strategy you will need to identify the best locations, build relationships with realtors, find potential properties to invest in, arrange the necessary financing and much more.
So, you can add all of these high-level activities to your plan and then work everything out as you move forward.
Real Estate Investing Principle 5:
Commit to Real Estate Investment Education
Are you a continuous learner? Do you have a routine where you commit to learning at least one new thing every day?
You need to develop your knowledge of real estate investment and the strategies that you can deploy.
There is always something to learn in the real estate investing game, so make a commitment to stay on top of everything.
How can you learn? Well, there is a lot of information online that is updated regularly. You can use the "news" feature in Google to find out the latest trends in the real estate industry.
Real Estate Investment Books
There are a huge number of real estate investing books on Amazon.
Find local REI clubs and investor meet-ups, learn from their speakers and network with other experienced real estate investors.
Quora, Reddit, specialist Facebook and LinkedIn Groups as well as YouTube are also great sources for anyone look to learn more about real estate investing.
Real Estate Investing Forums
Check out websites such as BiggerPockets, CREOnline, and REI Club. Read. Ask questions. Discuss. Network.
Learn as much as you can about your chosen real estate investing strategy
If there's an area of real estate investing you're interested in, read about that on the forum and try to network with investors who are doing deals in that particular niche.
Then there are seminars, events and meetups you can attend as well as online training courses.
Real Estate Investing Courses
Udemy has some great real estate investing for beginners courses, as well as for more experienced investors.
Consider Getting A Real Estate Mentor
Getting yourself a good mentor is another option and a great way to learn. They will be there for you if you need help resolving a problem.
If you are weighing up different investment opportunities then it is always good to have someone that you can trust to help you with this.
Real estate investment can be a lonely business and when you are new to it, you will need all of the help and advice that you can get.
A mentor is not going to sit down and teach you the fundamentals of real estate investment – there are a lot of easier and cheaper ways to do that yourself, but once you find a good mentor you will never look back.
It will cost you money, but it should be well worth it.
Find someone that has been in the industry a long time and is an expert in your chosen strategy.
A mentor will know more than you and you need to appreciate that. You will learn things from their experiences, good and bad, that would take you a long time to learn on your own.
They could also potentially save you a lot of heartache and lost money too.
Real Estate Investing Principle 6:
Identify the Best Real Estate Investment Locations
If you want to succeed as a real estate entrepreneur then you need to accept that the best real estate investment opportunities might not exist in your local area.
You may have to go further afield to find the best locations that have the right properties for you to invest in.
Start looking where you live if the market conditions are right. Most areas have good and bad elements.
Consider these things when you are assessing any area for real estate investment:
Is it a good area?
Is their real estate close to public transport links?
Is there a lot of traffic?
Are there good schools, colleges, universities in the area?
Are there stores nearby?
Is there adequate parking for cars?
Is the area quiet?
Are there employment opportunities in the area?
You need to be thinking about all of these things and more. Before you decide on an area find out if there is a high demand for renting.
Also find out what the turnover of tenants is. Check local newspapers and see the number of properties available for rent in the area. 
There is no substitute for checking out a potential real estate investment area for yourself. Don't trust everything that you read online or what realtors tell you.
Get out there and take a look around. Walk the neighborhood and see what it's really like.
Go multiple times of the day, weekdays and weekends so you you build up a full picture of your chosen area.
If you have decided on a buy and hold strategy then find out what areas local to you (and further afield if necessary) have the best rental yields and properties available at the right price.
Once you have chosen a location then find out everything you can about it from a real estate point of view.
Realtors can make or break your real estate investment business
They are going to know a great deal more about the area that you want to invest in than you do.
Some realtors are always willing to help real estate investors and some are not, so you need to talk to as many as you can to find the ones that you want to work with.
Each area of the country is going to have nuances that you will not be aware of and a local realtor will be. It doesn't matter if you plan to operate in your local area and you have lived there all of your life.
From a real estate perspective, they are always going to know more than you.
Real Estate Investing Principle 7:
Thoroughly Research Your Real Estate Investments
Do as much research as you can and keep researching. There is no such thing as too much research in real estate investing.
You can get all of the answers you need a lot easier now than in the past. There are plenty of online resources that you can use.
If you are looking at the wrong data then you could end up in trouble.

You need to ensure that you have recent real estate sold price information. This is not always readily available online even with the best websites.
There may not have been that many properties sold in the area you are looking at. If this is the case then there is a good chance that real estate websites will not have that much information.
You need to get out there and talk to realtors to get the facts about sold house prices.
Take your time with this as it is very important. Look at properties that have sold in the last couple of years.
Resist the temptation to go back further than this or it can skew the data and you can end up being confused.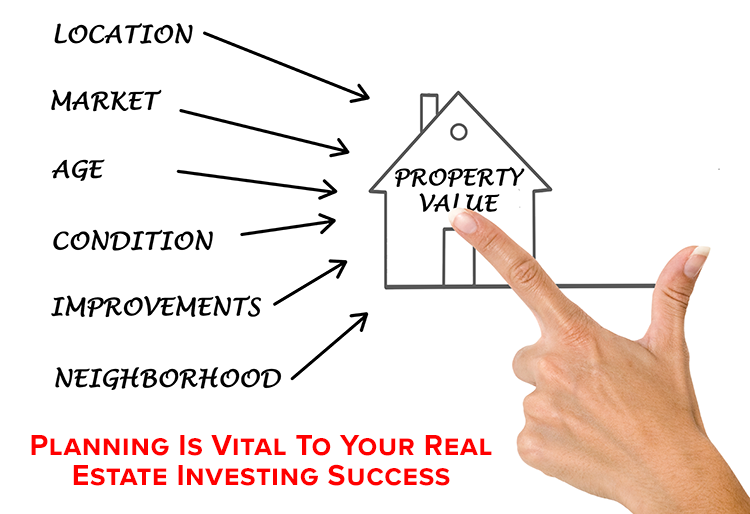 I have seen a lot of people end up with failed projects because they didn't perform the proper due diligence required. You need to be committed to checking the detail.
Do your research and then do it all over again
There are so many things that can trip you up in real estate investment. Don't just accept the word of others either, check things for yourself.
There is always a lot of money involved with whatever real estate investment strategy you follow. Why would you risk your money (or other people's) without checking all of the details first?
Never be pressured into a deal. It doesn't matter that your realtor tells you that the property will not be available at the low price for very long. Check everything out!
A lot more real estate investors are looking to other parts of the country for better projects. This is fine, but you must pay attention to the detail here.
You are not familiar with these new areas so you have to research thoroughly. If you don't you could end up losing a lot of money.
Look I get it – research is not the most exciting aspect of real estate investment. It takes time and persistence to research something properly.

But the alternative doesn't bear thinking about. Just buying real estate on the "say so" of someone else is very likely to end badly for you.
Some real estate investors will say that they don't have the time to conduct thorough research when they want to make investments.
Really? So, what is more important?
Does it have the potential to lose you money like failing to perform the proper research can? Probably not right?
Real Estate Investing Principle 8:
Know your Real Estate Investing Numbers
You must get a firm grip on the numbers if you want to be a successful real estate investor. It is absolutely vital that you are on top of every aspect of your real estate investment business.
You need to draw up cash flow plans and budgets and stick to them.
Deal Appraisal Spreadsheets and Software
Create spreadsheets that will show you your profitability for different rental pricing and the cost of acquiring a property for a buy and hold strategy for example.
When you come across potential investment opportunities, you can just plug the numbers into your spreadsheets to see if they stack up or not.
One set of real estate investing spreadsheets that I have personally used and can highly recommend. They have a FREE version too…
Make sure that everything is in your cash flow statement. Don't forget any of the costs such as closing fees, property taxes, renovation costs and so on.
Make your financial plan as accurate as possible and adjust it where necessary to reflect reality.
Let's assume that you are looking at a few properties to invest in for buy and hold in different areas. Having a good financial model that will help you to decide how much you need to pay for a property to turn the profit that you require is critical.
A lot of real estate investing newcomers will overpay for a property out of frustration. They are keen to get started and find it really tough to turn down one property after another because it doesn't fit their financial model. Don't fall into this trap.
Invest your money in an interest earning account or anything you can get reasonably quick access to (30 – 60  days), so that it is making you money while you hang on for that sweet deal.
They are out there for sure.
There are a lot of other real estate investors so there is always going to be competition. This is a good thing as it tells you that real estate investment is still worth pursuing.
Real Estate Investing Principle 9:
Have Access to Finance for your Real Estate Investments
Notice that I said "access to finances" rather than just having money. I know of several successful real estate investors that hardly use any of their own money.
It is a strategy that I use from time to time as well.
How do I Become a Real Estate Investor with Little or No Money?
Use the power of relationships and leverage.
If you don't have the money that you need for a down payment on a great investment property, then you need to believe that there is always a way.

It is certainly possible to invest in real estate with no money. You can find other investors and create a joint venture. They provide the money and you provide the expertise.
The investors provide the financing and you will provide the following:
Source the right properties at the right price
Assess chosen properties for renovation requirements and create a budget for this
Manage all aspects of the real estate investment project
I would not recommend relying on the mainstream lenders for your finance requirements. Get out there and find competent mortgage brokers who you are happy to work with.
Having a good mortgage broker on your virtual team can literally mean the difference between success and failure.
I use several mortgage brokers in my business, because often one is a specialist in one type of finance and another in another. Using multiple brokers can help you find the best finance deals for the individual project.
On the subject of finances, you need to be on top of the money flowing in and out of your business.
Cash flow is really important and you need to make sure that you will be able to pay for things on time. Any slip ups here could result in a bad credit rating which will scupper your chances of success in the future.
Real Estate Investing Principle 10:
Create your Real Estate Investment Team
You cannot be successful as a real estate investor on your own. So, you need to build a professional team that will provide you with the right advice.
A local realtor will know what is going on with property sales, and will have access to properties for sale that you will not be able to find through your own efforts.
It is also a good idea to find a good mortgage broker who can find the best loan deals for you. They know a lot about the real estate mortgage market and their advice can be invaluable.
Get a good lawyer on board as well who will be responsive when you need them. If you are going to renovate properties then you will need to know some good contactors as well.
You are the leader of this team. If you do not lead your team properly then there is a much higher probability that things are going to go wrong.

For example, you have found some good contractors to work on your properties. They do a great job when it comes to renovations etc.

But if you don't lead them you will not get the end result you want.
Communication is a critical part of leadership. You need to make it abundantly clear to all of the members of your team what your plans are and when you want everything completed by.
And then you need to ensure that they all play their part to make it happen.
Final Words on How To Become A Real Estate Investor
So, there you have it. The ten principles on how to become a real estate investor. You now know how to create wealth investing in real estate.
Are you going to take action and follow my how to become a real estate investor principles?
If you do, I'm sure that you will maximize your chances of real estate investing success.
Did I Miss Anything?
Now I'd like to hear from you:
Which real estate investing principle from today's post are you going to start first?
Or maybe I didn't mention one of your favorite how to become a real estate investor tips?
Either way, let me know by leaving a comment below right now. Thank you and have an amazing day!!!